If someone were to ask you about your business financials, could you give them a detailed answer?
Let's say they ask—how do you allocate your operating expenses? What is your cash flow situation like? What is your exit strategy? And a series of similar other questions.
Instead of mumbling what to answer or shooting in the dark, as a founder, you must prepare yourself to answer this line of questioning—and creating a financial plan for your startup is the best way to do it.
A business plan's financial plan section is no easy task—we get that.
But, you know what—this in-depth guide and financial plan example can make forecasting as simple as counting on your fingertips.
Ready to get started? Let's begin by discussing startup financial planning.
What is Startup Financial Planning?
Startup financial planning, in simple terms, is a process of planning the financial aspects of a new business. It's an integral part of a business plan and comprises its three major components: balance sheet, income statement, and cash-flow statement.
Apart from these statements, your financial section may also include revenue and sales forecasts, assets & liabilities, break-even analysis, and more. Your first financial plan may not be very detailed, but you can tweak and update it as your company grows.
Key Takeaways
Realistic assumptions, thorough research, and a clear understanding of the market are the key to reliable financial projections.
Cash flow projection, balance sheet, and income statement are three major components of a financial plan.
Preparing a financial plan is easier and faster when you use a financial planning tool.
Exploring "what-if" scenarios is an ideal method to understand the potential risks and opportunities involved in the business operations.
Why is Financial Planning Important to Your Startup?
Poor financial planning is one of the biggest reasons why most startups fail. In fact, a recent CNBC study reported that running out of cash was the reason behind 44% of startup failures in 2022.
A well-prepared financial plan provides a clear financial direction for your business, helps you set realistic financial objectives, create accurate forecasts, and shows your business is committed to its financial objectives.
It's a key element of your business plan for winning potential investors. In fact, YC considered recent financial statements and projections to be critical elements of their Series A due diligence checklist.
Your financial plan demonstrates how your business manages expenses and generates revenue and helps them understand where your business stands today and in 5 years.
Makes sense why financial planning is important to your startup, doesn't it? Let's cut to the chase and discuss the key components of a startup's financial plan.
Key Components of a Startup Financial Plan
Whether creating a financial plan from scratch for a business venture or just modifying it for an existing one, here are the key components to consider including in your startup's financial planning process.
Income Statement
An Income statement, also known as a profit-and-loss statement(P&L), shows your company's income and expenditures. It also demonstrates how your business experienced any profit or loss over a given time.
Revenue – Expenses = Profit / Loss.
Consider it as a snapshot of your business that shows the feasibility of your business idea. An income statement can be generated considering three scenarios: worst, expected, and best.
Your income or P&L statement must list the following:
Cost of goods or cost of sale
Gross margin
Operating expenses
Revenue streams
EBITDA (Earnings before interest, tax, depreciation, & amortization)
Established businesses can prepare annual income statements, whereas new businesses and startups should consider preparing monthly statements.
Cash flow Statement
A cash flow statement is one of the most critical financial statements for startups that summarize your business's cash in-and-out flows over a given time.
This section provides details on the cash position of your business and its ability to meet monetary commitments on a timely basis.
Your cash flow projection consists of the following three components:
✅ Cash revenue projection: Here, you must enter each month's estimated or expected sales figures.
✅ Cash disbursements: List expenditures that you expect to pay in cash for each month over one year.
✅ Cash flow reconciliation: Cash flow reconciliation is a process used to ensure the accuracy of cash flow projections. The adjusted amount is the cash flow balance carried over to the next month.
Furthermore, a company's cash flow projections can be crucial while assessing liquidity, its ability to generate positive cash flows and pay off debts, and invest in growth initiatives.
Balance Sheet
Your balance sheet is a financial statement that reports your company's assets, liabilities, and shareholder equity at a given time.
Consider it as a snapshot of what your business owns and owes, as well as the amount invested by the shareholders.
This statement consists of three parts: assets, liabilities, and the balance calculated by the difference between the first two. The final numbers on this sheet reflect the business owner's equity or value.
Balance sheets follow the following accounting equation with assets on one side and liabilities plus Owner's equity on the other:
Assets = Liabilities + Owner's equity
Here is what's the core purpose of having a balance-sheet:
Indicates the capital need of the business
It helps to identify the allocation of resources
It calculates the requirement of seed money you put up, and
How much finance is required?
Since it helps investors understand the condition of your business on a given date, it's a financial statement you can't miss out on.
Break-even Analysis
Break-even analysis is a startup or small business accounting practice used to determine when a company, product, or service will become profitable.
For instance, a break-even analysis could help you understand how many candles you need to sell to cover your warehousing and manufacturing costs and start making profits.
Remember, anything you sell beyond the break-even point will result in profit.
You must be aware of your fixed and variable costs to accurately determine your startup's break-even point.
Fixed costs: fixed expenses that stay the same no matter what.
Variable costs: expenses that fluctuate over time depending on production or sales.
A break-even point helps you smartly price your goods or services, cover fixed costs, catch missing expenses, and set sales targets while helping investors gain confidence in your business. No brainer—why it's a key component of your startup's financial plan.
Having covered all the key elements of a financial plan, let's discuss how you can create a financial plan for your startup.
How to Create a Financial Section of a Startup Business Plan?
1. Determine Your Financial Needs
You can't start financial planning without understanding your financial requirements, can you? Get your notepad or simply open a notion doc; it's time for some critical thinking.
Start by assessing your current situation by—calculating your income, expenses, assets, and liabilities, what the startup costs are, how much you have against them, and how much financing you need.
Assessing your current financial situation and health will help determine how much capital you need for your startup and help plan fundraising activities and outreach.
Furthermore, determining financial needs helps prioritize operational activities and expenses, effectively allocate resources, and increase the viability and sustainability of a business in the long run.
Having learned to determine financial needs, let's head straight to setting financial goals.
2. Define Your Financial Goals
Setting realistic financial goals is fundamental in preparing an effective financial plan. So, it would help to outline your long-term strategies and goals at the beginning of your financial planning process.
Let's understand it this way—if you are a SaaS startup pursuing VC financing rounds, you may ask investors about what matters to them the most and prepare your financial plan accordingly.
However, a coffee shop owner seeking a business loan may need to create a plan that appeals to banks, not investors. At the same time, an internal financial plan designed to offer financial direction and resource allocation may not be the same as previous examples, seeing its different use case.
Feeling overwhelmed? Just define your financial goals—you'll be fine.
You can start by identifying your business KPIs (key performance indicators); it would be an ideal starting point.
3. Choose the Right Financial Planning Tool
Let's face it—preparing a financial plan using Excel is no joke. One would only use this method if they had all the time in the world.
Having the right financial planning software will simplify and speed up the process and guide you through creating accurate financial forecasts.
Many financial planning software and tools claim to be the ideal solution, but it's you who will identify and choose a tool that is best for your financial planning needs.
Create a Financial Plan with Upmetrics in no time
Enter your Financial Assumptions, and we'll calculate your monthly/quarterly and yearly financial projections.
4. Make Assumptions Before Projecting Financials
Once you have a financial planning tool, you can move forward to the next step—making financial assumptions for your plan based on your company's current performance and past financial records.
You're just making predictions about your company's financial future, so there's no need to overthink or complicate the process.
You can gather your business' historical financial data, market trends, and other relevant documents to help create a base for accurate financial projections.
After you have developed rough assumptions and a good understanding of your business finances, you can move forward to the next step—projecting financials.
5. Prepare Realistic Financial Projections
It's a no-brainer—financial forecasting is the most critical yet challenging aspect of financial planning. However, it's effortless if you're using a financial planning software.
Upmetrics' forecasting feature can help you project financials for up to 7 years. However, new startups usually consider planning for the next five years. Although it can be contradictory considering your financial goals and investor specifications.
Following are the two key aspects of your financial projections:
In simple terms, revenue projections help investors determine how much revenue your business plans to generate in years to come.
It generally involves conducting market research, determining pricing strategy, and cash flow analysis—which we've already discussed in the previous steps.
The following are the key components of an accurate revenue projection report:
Market analysis
Sales forecast
Pricing strategy
Revenue streams
Growth assumptions
Seasonal variations
This is a critical section for pre-revenue startups, so ensure your projections accurately align with your startup's financial model and revenue goals.
Both revenue and expense projections are correlated to each other. As revenue forecasts projected revenue assumptions, expense projections will estimate expenses associated with operating your business.
Accurately estimating your expenses will help in effective cash flow analysis and proper resource allocation.
These are the most common costs to consider while projecting expenses:
Fixed costs
Variable costs
Employee costs or payroll expenses
Operational expenses
Marketing and advertising expenses
Emergency fund
Remember, realistic assumptions, thorough research, and a clear understanding of your market are the key to reliable financial projections.
6. Consider "What if" Scenarios
After you project your financials, it's time to test your assumptions with what-if analysis, also known as sensitivity analysis.
Using what-if analysis with different scenarios while projecting your financials will increase transparency and help investors better understand your startup's future with its best, expected, and worst-case scenarios.
Exploring "what-if" scenarios is the best way to better understand the potential risks and opportunities involved in business operations. This proactive exercise will help you make strategic decisions and necessary adjustments to your financial plan.
7. Build a Visual Report
If you've closely followed the steps leading to this, you know how to research for financial projections, create a financial plan, and test assumptions using "what-if" scenarios.
Now, we'll prepare visual reports to present your numbers in a visually appealing and easily digestible format.
Don't worry—it's no extra effort. You've already made a visual report while creating your financial plan and forecasting financials.
Check the dashboard to see the visual presentation of your projections and reports, and use the necessary financial data, diagrams, and graphs in the final draft of your financial plan.
Here's what Upmetrics' dashboard looks like: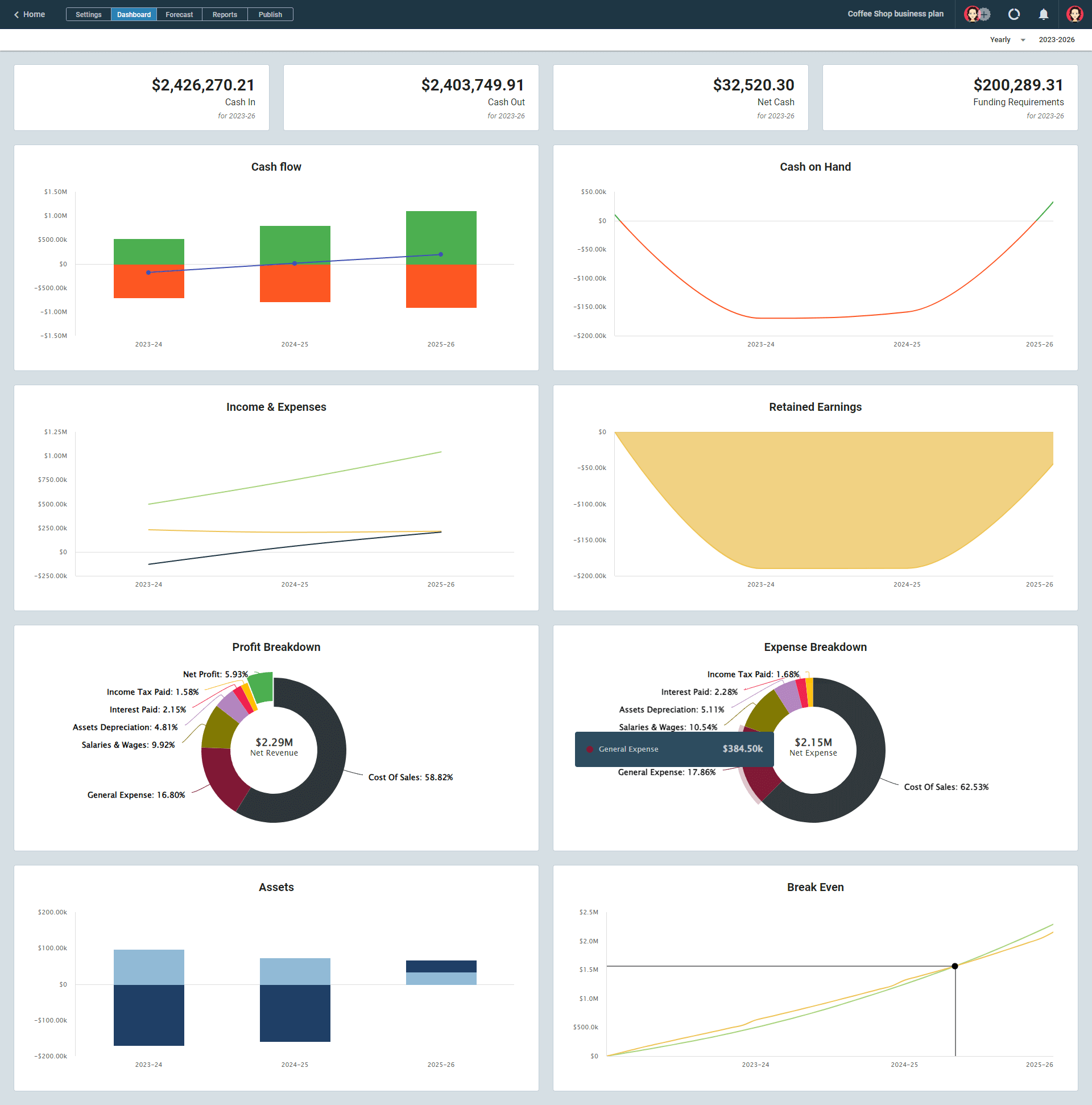 8. Monitor and Adjust Your Financial Plan
Even though it's not a primary step in creating a good financial plan, it's quite essential to regularly monitor and adjust your financial plan to ensure the assumptions you made are still relevant, and you are heading in the right direction.
There are multiple ways to monitor your financial plan.
For instance, you can compare your assumptions with actual results to ensure accurate projections based on metrics like new customers acquired and acquisition costs, net profit, and gross margin.
Consider making necessary adjustments if your assumptions are not resonating with actual numbers.
Also, keep an eye on whether the changes you've identified are having the desired effect by monitoring their implementation.
And that was the last step in our financial planning guide. However, it's not the end. Have a look at this financial plan example.
Startup Financial Plan Example
Having learned about financial planning, let's quickly discuss a coffee shop startup financial plan example prepared using Upmetrics.
Disclaimer: Information provided in the example is only for educational and illustrative purposes and should not Coffee Shop Financial Plan be construed as financial or investment advice.
Important Assumptions
The sales forecast is conservative and assumes a 5% increase in Year 2 and a 10% in Year 3.
The analysis accounts for economic seasonality – wherein some months revenues peak (such as holidays ) and wanes in slower months.
The analysis assumes the owner will not withdraw any salary till the 3rd year; at any time it is assumed that the owner's withdrawal is available at his discretion.
Sales are cash basis – nonaccrual accounting
Moderate ramp- up in staff over the 5 years forecast
Barista salary in the forecast is $36,000 in 2023.
In general, most cafes have an 85% gross profit margin
In general, most cafes have a 3% net profit margin
Projected Balance Sheet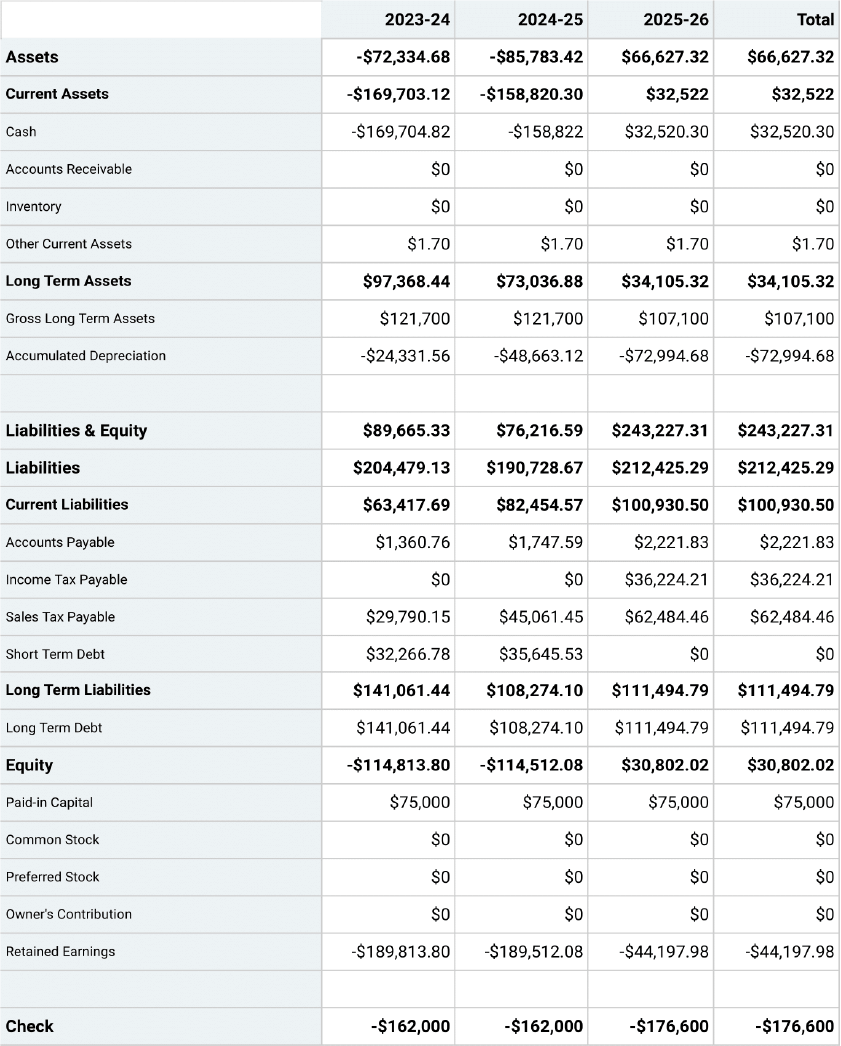 Projected Cash-Flow Statement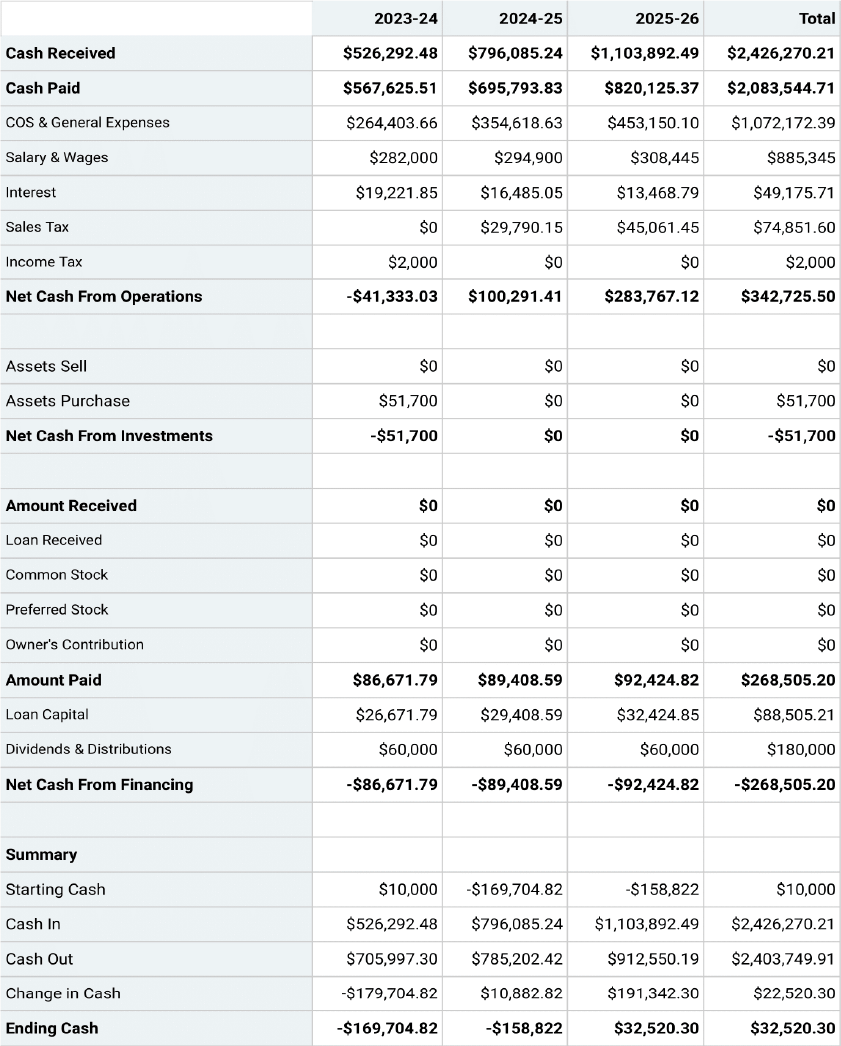 Projected Profit & Loss Statement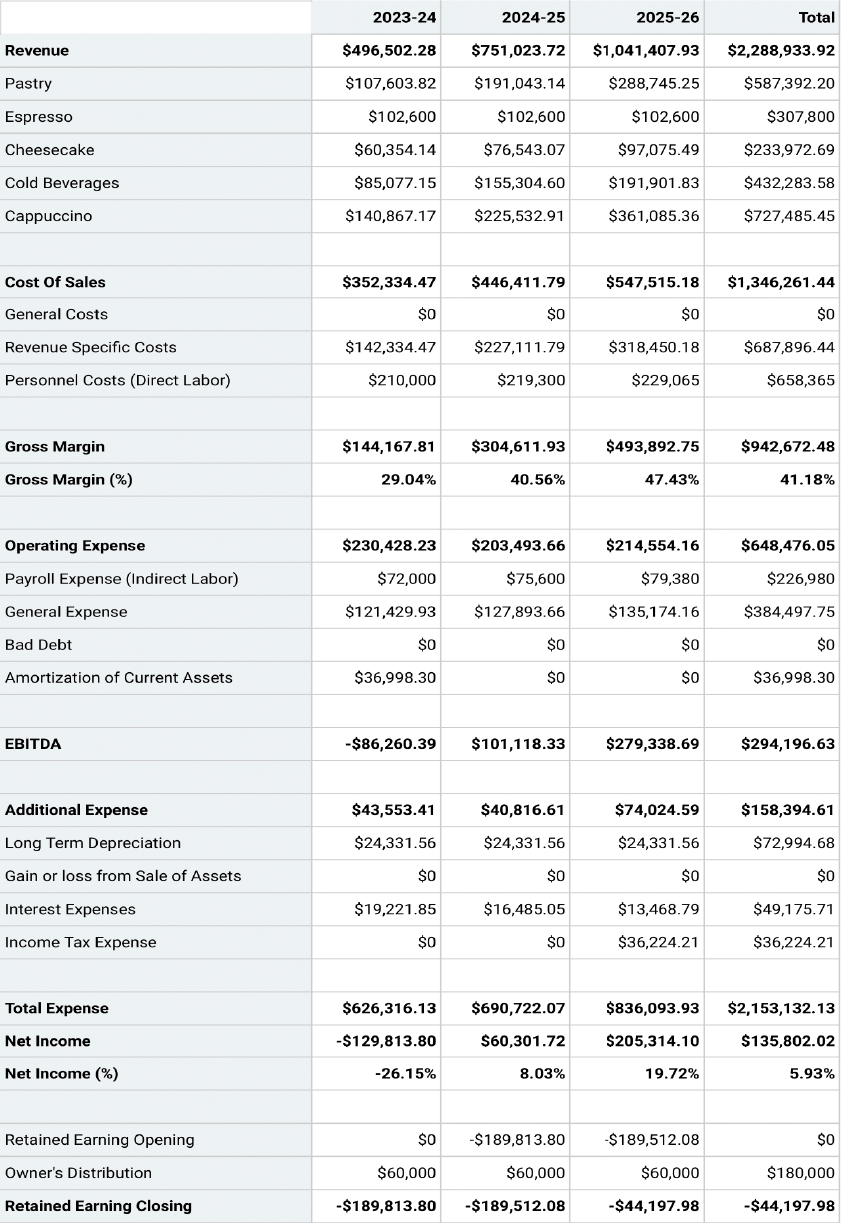 Break Even Analysis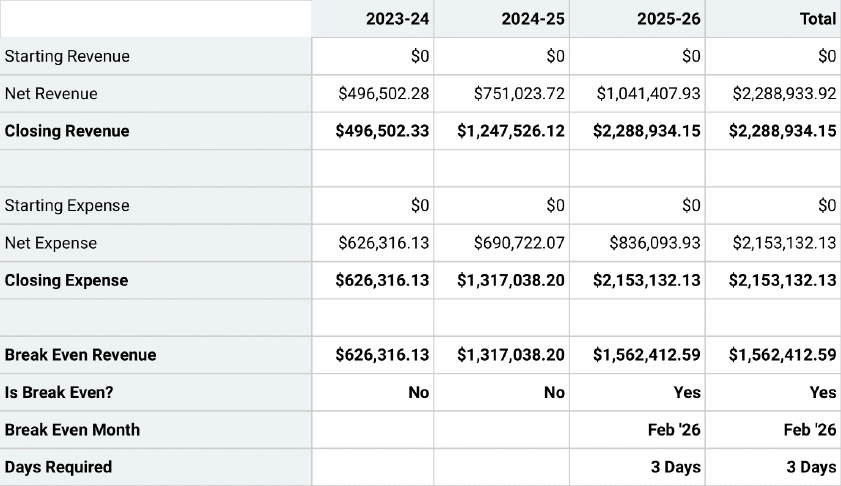 Start Preparing Your Financial Plan
We covered everything about financial planning in this guide, didn't we? Although it doesn't fulfill our objective to the fullest—we want you to finish your financial plan.
Sounds like a tough job? We have an easy way out for you—Upmetrics' financial forecasting feature. Simply enter your financial assumptions, and let it do the rest.
So what are you waiting for? Try Upmetrics and create your financial plan in a snap.