So apparently everyone is jumping in to start an ecommerce business. Considering you already have your star product or service ready, you must be very thrilled to launch your business and make your first sale.
However, wait. Is your business plan ready? If you haven't marked writing a business plan as the most important task on your checklist, you need to do that right away.
We know writing a business plan is challenging. As a business owner of this new challenging enterprise, you don't have much time. But this detailed guide with step-by-step procedures is likely to make the entire process of writing easier for you.
Don't waste a minute further. Let's dive right into the topic.
Key Takeaways
Elements like executive summary, product or service, operations, marketing and sales plan, management team, and financial plan come together to make a compelling business plan.
Determine marketing strategies for your ecommerce business and lay a clear action plan for building a solid brand image.
Clearly establish your value propositions, business goals, and objectives to form relevant strategies for your ecommerce company.
Make financial projections and consider various progressive and aggressive scenarios to establish the feasibility of your business idea.
Identify the gaps and loopholes in your planning and make changes to your business idea accordingly.
Why do you need an Ecommerce business plan?
A business plan has many more advantages apart from helping you get approved for a business loan. Here are a few potential benefits of having one for your ecommerce company:
Goals fulfillment: You will have to juggle multiple roles while running your ecommerce store. A well-crafted business plan will offer a roadmap to your business while helping you realize your business goals.
Business strategies: A  business plan simplifies your business strategy and helps put the strategies for sales, marketing, and operations in perspective.
Market analysis: A business plan strengthens your stand in the market by compelling you to conduct a detailed market analysis of the industry, competitors, and potential customers.
Test ideas: An ecommerce plan will help you realize the gaps and errors in your planning. This allows you the luxury to make changes in the business model before investing your money in it.
Simplifies the finance: A well-detailed business plan lays a clear financial plan for your ecommerce business. The figures will help you understand the profitability, costs, and expenses of the company and its viability in monetary terms.
There's much more to it. A business plan is like a beam of bright light that will make walking through the woods easier. It's a living document that will evolve as the business grows.
Key components of an ecommerce business plan
Wondering what goes into making a perfect ecommerce business plan? Well, these are the key components you shouldn't be missing.
Executive summary: The executive summary will highlight the key details of your entire business plan.
Business overview: This section will include a brief business overview along with its value proposition, objectives, mission, and vision statement.
Market analysis: This section will define your potential customers and competition. A detailed industry analysis and competitors analysis will lay a foundation for important business strategies.
Products and services: Define the products and services you will sell to your ideal customer. Also, offer a brief description of each product.
Sales and marketing strategy: Highlight your sales and marketing plan to attract your potential customers. From content marketing to social media- include every detail of your strategies here.
Operations plan: A well-defined plan that will help you run a smooth online business. Clearly defined process for inventory, order fulfillment, sales, storage, etc.
Management team: A brief introduction of your company's management team and their expertise in the field.
Financial plan: Includes detailed financial forecasts and key reports like balance sheet, cash flow, P&L, and investment plan.
There is no definite format for business plans. However, a comprehensive plan accounts for all these components and makes it effective.
How to Write an Ecommerce Business Plan: A Complete Guide
From undertaking thorough market research to creating a marketing plan- uncover every detail on writing an effective plan for your online business with this guide.
1. Get an Ecommerce business plan template
Crafting a stellar business plan is a challenge. However, it can be the most precious reward for your business if you manage to write it comprehensively.
The process of translating your business idea into a business plan is lengthy and time-consuming. One is likely to leave behind an important detail or two without any definite format.
This is why you need an Ecommerce business plan template to write your plan in a structurally organized format. A template will help streamline your thoughts, organize the vision, and bring your ideas to life effortlessly.
Let's not look elsewhere for a perfect template. Upmetrics business plan template is intuitive and is enriched with relevant examples that can be easily used as a reference while writing your plan.

Need Assistance Writing a Ecommerce Business Plan?
Get Upmetrics' business plan template, import data directly into the editor, and start editing using Upmetrics AI Assistant.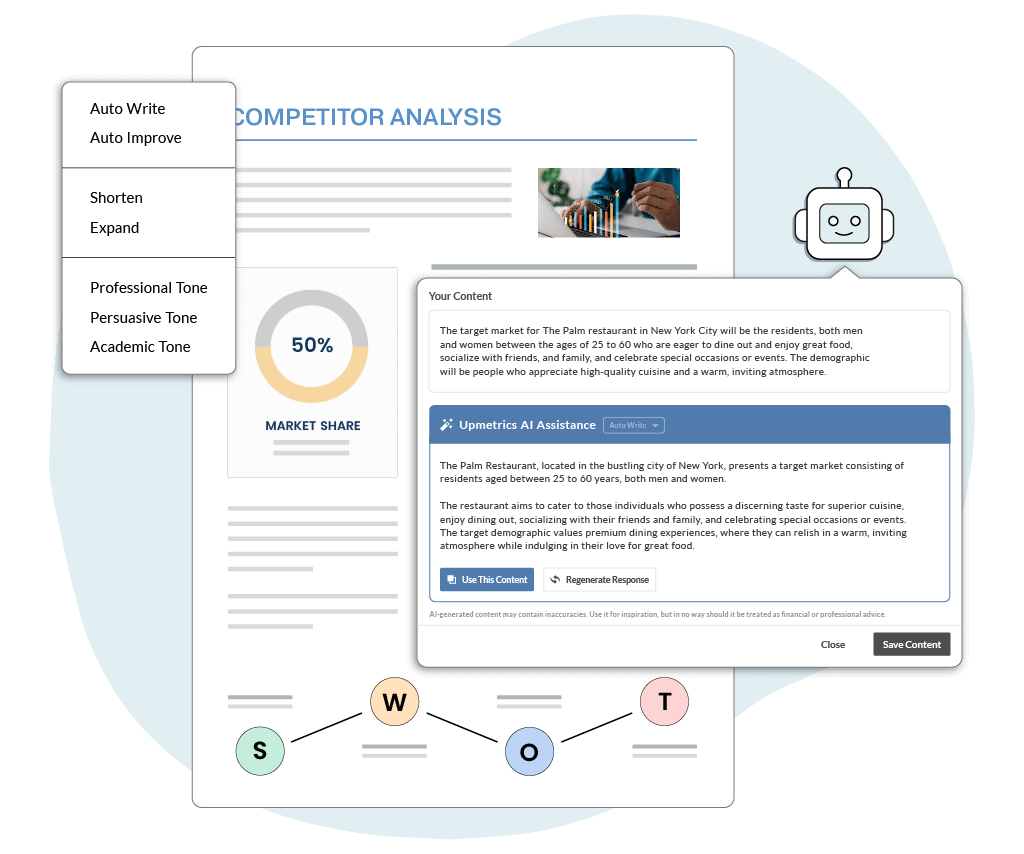 2. Write an executive summary
Executive summary is a concise rundown of key points that summarizes your business plan. Though presented at first, it should be written in the end after you have walked through all the other aspects of planning.
Consider it as a document that will offer a brief insight into your overall business. Investors will read this part and gauge the viability of your business idea. If they find it fascinating and intriguing enough they will read it further in detail.
Add brief details of your ecommerce business, target market, problem, solution, service model, business goals, and financial figures in this section.
Adapt a narrative tone to make it interesting and keep it highly informative. And, most importantly keep it within a limit of 1-2 pages.
3. Create a company overview section
As the title suggests, this section offers a brief company description of your ecommerce business. You must also include brief details about the company's history in this section if it's not a new venture.
So what does this section include?
Name and location of the business, i.e. location of your warehouse, back end office.
Type of your Ecommerce business, i.e. B2B, B2C, D2C, C2C, etc.
Business structure of your ecommerce brand, i.e. sole proprietorship, Partnership, LLC, limited partnership, etc.
Business goals: Highlight milestones such as sales or revenue goals.
Mission statement: Describe the fundamental purpose of your business explaining why the business exists.
For instance, the mission of First Cry is to offer eco-friendly baby care and maternity items to conscious buyers through its website and listings on a third-party platform.
Vision statement: It is a declaration of what you want to achieve with your ecommerce business.
For instance, First Cry wants to become the preferred brand for baby care products in the markets of North America, Asia, and Europe.
4. Conduct a competitive and market analysis
In this section of competitive and market analysis you will dive deep into the study of the target market, industry trends, and your competition. Only a thorough understanding of these key elements will help you build a resilient business.
Target market and market opportunities
Begin by determining the Total Addressable Market (TAM) for your products and services. This part of the market analysis will offer a realistic idea of your market size.
Further, strengthen the understanding of your target market by identifying your target audience. Create a buyer persona by considering the psychographic and demographic details of your ideal customer.
Collect data from US census boards, government websites, and industrial publications for solid and foundational market research.
Lastly, identify the market trends and highlight your business strategy to fill the gaps in the existing market.
Competitive analysis
Ecommerce companies operate in a severely competitive marketplace. Understanding your competition will help you safeguard the business against potential threats and risks from your direct and indirect competitors.
Collect the data and analyze your competitors on the grounds of prices, services, quality, product offering, target market, and market size to make conclusive points. Evaluate their strengths and weaknesses using methods like SWOT analysis.
Now, detail the competitive advantage of your products and service offerings. This analysis should reflect that your business idea has a solid advantage over competitors' offerings.
Focus on quality research. The study of the target market and competition will lay a foundation for crafting efficient business strategies.
5. Detail your products and services
After completing your market analysis, you will create a detailed section for your products and services.
Highlight all the product lines that your online business will offer. Also, mention the products within each product line and the product source.
If you are amongst the ecommerce businesses that sell digital products or services, mention those and explain how the customers will access them.
For instance, an OTT platform offers streaming services to its clients through an application.
Keep this section detailed by adding a brief description of each product and its pricing.
Consider this as a checklist of questions you must answer within this section:
What are the products of your online store?
Will you manufacture the products or source them from vendors?
How will your customers buy the product- Website, application, shopping platforms, etc.
What will be the pricing of your product offerings?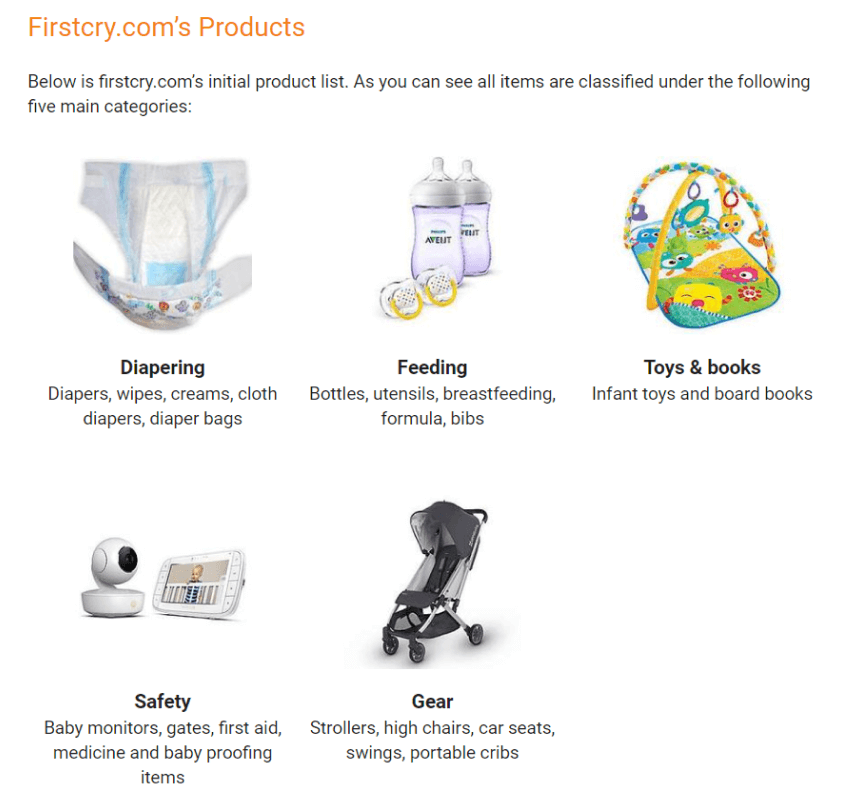 6. Develop a sales and marketing plan
By now, the readers are aware of the products and services that your online business will offer. It's now time to tell them your sales and marketing plan.
Sales plan
Millions of ecommerce businesses start every year. But very few manage to crack their desired sales.
In this section, you will make sales strategies to ensure that your desired sales become achievable.
Try answering the following to form an efficient sales plan:
Sales channels: website, application, ecommerce platforms, subscription box platforms, flash sale sites, etc.
Sales method: Inbound methods or outbound methods
Sales personnel: Who will be responsible for product/service sales
Sales tools: CRM
The decisions you make here will influence the marketing strategy of your online store.
Marketing strategy
Now you need a well-rounded marketing plan to market your online store. After all, marketing is crucial to developing a brand, reaching your target customers, and acquiring sales.
In this section of a business plan, you will highlight the marketing plan for your ecommerce business. Identify the marketing channels that will be most effective for your target customers and design your strategies accordingly.
Here are a few prevalent marketing methods that can help you grow your online store:
Content marketing: Start writing informative and useful blog posts for your target audience. Focus on principles of SEO and keyword research to grow your reach organically. Also, post guest blogs on websites to increase your chances of reaching a wider audience.
Social media marketing: Identify the social media platforms that are used the most by your target audience and dedicate your marketing efforts accordingly.
Email Marketing: Email marketing is the most rewarding marketing channel for thousands of ecommerce businesses out there. Explain how you will build your Email list and draw conversions through them.
PPC: Design strategies for running paid ads on Google, Facebook, and other platforms and determine your budget for the same.
Traditional PR: Traditional methods of publications can also help you market your product effectively. If you will be using such methods, highlight the details regarding the same.
Influencer marketing: Will you hire or barter with influencers to promote your product? If so, define your strategy for the same.
All in all, the marketing plan should clearly define a roadmap to reach your target audience. Also, highlight different marketing tools you will use for your online business.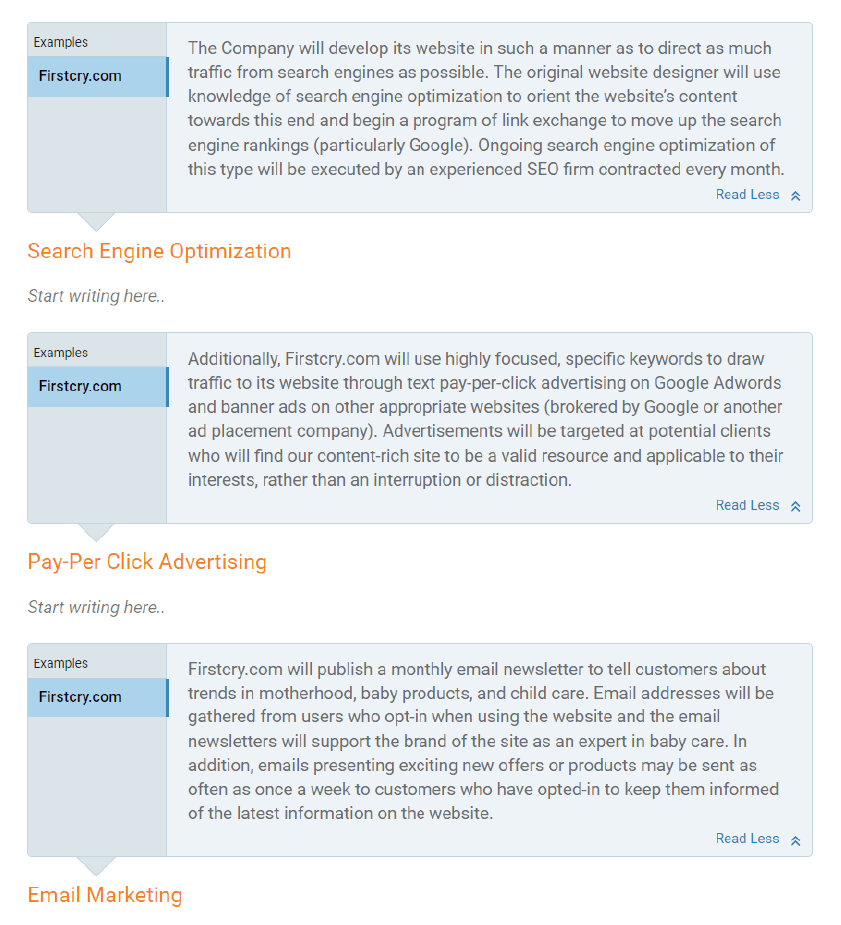 7. Introduce your management team
Having the right team will help you build a successful ecommerce business. So take your time and figure out the manpower needs for your business.
In this section of your business plan, you will introduce the key management members at your ecommerce store. Define their role, responsibility, experience, expertise, and achievements to prove their suitability in your organization.
Outline the organizational structure of your online store and explain how these people will be responsible for the smooth functioning of your business.
8. Outline your operational plan
Running an ecommerce store is not an easy task. From managing the backend to offering timely deliveries- a lot goes into ensuring smooth business operations.
A solid business plan cannot be complete without a detailed section of operations in it. So take your time and set your operations in line before you start with the store.
Here are a few things that most ecommerce business plans have in common. Consider adding them to your operations plan as well.
Order fulfillment process: Everything from getting an order to delivery, managing returns, shipment, packaging, exchange, and tracking is defined at this step. Explain how the order will be fulfilled at your online store.
Manufacturing and quality control: If the products will be manufactured in-house, what will be the manufacturing process? How will you ensure quality? Where will the goods be manufactured? What machinery will you use?
Suppliers: Who will be your supplier for products and services? What will be the purchase terms? Will there be an agreement or contract? What would be the contingency plan in case of casualty?
Storage: Will you dropship the products or store them in a warehouse? Where will be the storage located? How will you manage stock? What methods will you use?
Technology and payment processors: How will the customers pay for online shopping? What payment methods are available for them? What technologies will you use to facilitate payments? How will you secure their personal information?
Customer service: How can the customers reach you? What will be your order policies? Will there be any customer service team?
The logistics and operations plan will serve as a policy book for your organization. It will answer every query and doubt regarding the process.
9. Prepare financial projections
Now comes the most taxing part of creating a business plan- preparing a financial plan.
A financial plan is crucial because it will help you determine the feasibility of a business idea. Moreover, if you plan to seek funding for your online business, the projections in this plan will compel potential investor's interest in your business.
Here are a few things to include in your financial plan:
Startup costs: Estimate the startup costs for your ecommerce business. From website development to inventory costs, licensing fees, security, and software charges- include every cost that will go into establishing your online business.
Funding source: Determine your funding requirements and what sources will you use to acquire the funds, i.e. business loans, angel investors, friends and family, etc.
Pricing strategy: Include your pricing plan for the products and services. Consider various overhead and operational costs to determine the final pricing.
Sales projections: Include your monthly, quarterly, and annual sales projections through different sales channels and also estimate your revenue.
Income statement: Also known as profit and loss statement, in this key report you will forecast the company's profit and loss for the next 3-5 years. The difference between a company's revenue and expenses will give you gross profits and net profits.
Cash Flow Statement:  A clear documentation of cash that is generated and spent in a business. This will help potential investors understand whether your business will make or lose money.
Balance sheet: A key summary of your business assets and liabilities that indicates your net worth. Calculate your equity in the business by deducting all the liabilities from your assets.
Break-even analysis: Break-even will help you evaluate how long before the business will start making money.
Too much of calculations right? Not with the financial forecasting tool from Upmetrics. Simply enter your numbers in the tab and the tool will do all the detailed calculations for you. Import the data from Excel sheets and before you know your projections will be done.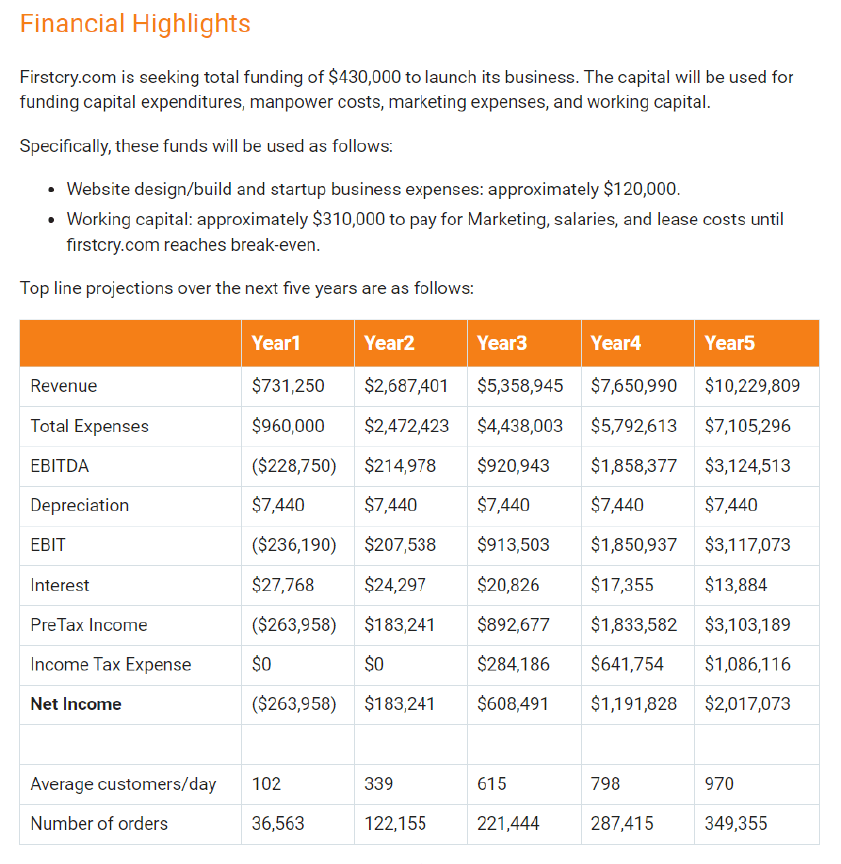 Ecommerce Industry Highlights 2023
Ecommerce is a trillion-dollar industry. It's indeed a rewarding market for anyone who wants to start an ecommerce business. But before that, you must check out these latest industry highlights of 2023.
The US online marketplace is expected to reach 940.9 billion by 2023 end. There is enough scope for new businesses to emerge and grow in this competitive market space.
Download a sample ecommerce business plan
Looking for help to write your business plan? Well, we have something absolutely perfect for you. Download our ecommerce business plan sample pdf and get a detailed guide to write a plan along with relevant examples.
Upmetrics business plan templates are designed specifically for entrepreneurs and business owners who want to write their own business plans. Our templates are modern, intuitive, and easily available to kickstart your plan writing.
Write your business plan with Upmetrics
All set to start your own ecommerce business? Let's simplify the entire business planning process for you with Upmetrics. We have more than 400+ customizable sample business plans suited for varying different businesses. With features like AI assistance and financial forecasting, you can bring together an actionable business plan in easy steps.
So whether you are aiming to start a business-to-business or business-to-customer or any other type of ecommerce business, you are well equipped to write the most stellar plan with our business planning app.
Get started now.