You have cracked the recipe for good food & great ambiance and are planning to start a restaurant, fantastic!
Whether starting a cozy corner cafe, a theme-based fine dining restaurant, or growing an existing one, you will need a restaurant business plan as a roadmap for your business success.
But writing a business plan is complex, isn't it? That is why we are here with our comprehensive restaurant business plan template to help you in writing yours.
Key Takeaways
Highlight the concept of the restaurant along with the ambiance, types of cuisines, customer base, and USPs of the restaurant in the plan.
Utilize tools for SWOT analysis to assess your strengths, weaknesses, opportunities, and threats for making informed decisions.
Craft an impactful executive summary that outlines your restaurant's concept, marketing approach, financial outlook, and team expertise to attract potential investors and partners.
Conduct thorough market research to understand market trends, consumer preferences, and the needs of your target market.
Analyze the competitive landscape, and identify direct & indirect competitors, to develop strategies that maintain your restaurant's competitive advantage.
To ensure efficient daily operations, provide in-depth operational plans that incorporate staffing, additional services, inventory control, and customer service.
Create realistic financial projections for sales revenue, expenses, and profit forecasts while considering contingencies & emergencies.
Why is a restaurant business plan important?
Crafting a restaurant business plan is daunting but its significance cannot be underestimated. It is essential to drive your business toward success.
In the competitive atmosphere where there are 700,000+ restaurants in the USA, having a proper plan will help you get funding and better adaptability in a constantly changing business environment.
Even if funding isn't a primary concern, a plan provides the restaurant owner or manager with clear direction on how to create actionable strategies for reaching business goals.
Your business plan will also help solidify the viability of the restaurant's idea and concept.
In short, think of it as a guide for running all the aspects of the business smoothly.
How to write a restaurant business plan: Step-by-Step Guide
Since we are talking about a restaurant business plan; let us walk you through this restaurant business plan outline step-by-step without any delay:
1. Executive summary
An executive summary is the first section and the most significant section of any business plan. It captures the essence of your whole plan summarizing it for a quick understanding of your business.
Think of it as a sneak peek for the readers that draws their attention to the entire restaurant business plan.
You should start your summary with a compelling introduction with the name of your restaurant. It should also focus on the essence of your restaurant concept.
Give a brief overview of your unique selling points, emphasizing what makes your restaurant special. It might be the signature dishes, innovative ambiance, prime location, or some new cuisine experience.
Apart from the above essential points, your executive summary should include:
Mission statement
Vision statement
Execution structure
Potential costs
Expected return on investment
Many readers will read the executive summary before making a judgment, so if this is all they read, make every word count.
Also, SBA advises to include financial projections in your executive summary if you're using your business plan to request funding.
Say goodbye to boring templates
Build your business plan faster and easier with AI
Plans starting from $7/month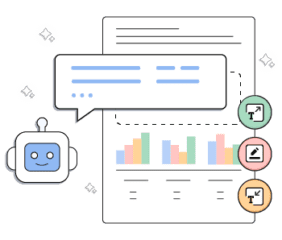 2. Company Overview
Company overview is a part where you fully introduce your restaurant business including legal business structure, location, and your restaurant's proposed concept.
Here you have the liberty to be a little more creative in describing your restaurant in the whole business plan.
Here are some points to incorporate in the company overview:
Detailed vision and mission statement
Type of restaurant (fine dining, small restaurant, bistro, cafe, etc.)
Legal business structure
Service style
History and background of the restaurant (if existing)
Owners' names and qualifications
Cusinies & menu highlights
Restaurant size and seating capacity
Operating hours & meal plans
Ambiance
Related service availability (delivery, catering, etc)
Mainly emphasize the chosen location because easily accessible locations with high foot traffic will attract more walk-in customers. And if you haven't decided on a specific location yet, then mention the type of place you are looking for to give an idea about it to your readers.
Besides, mention the short-term and long-term goals of your restaurant business in the later part of the company description. Along with that mention regional industry trends and your USPs.

Need Assistance Writing a Restaurant Business Plan?
Get Upmetrics' business plan template, import data directly into the editor, and start editing using Upmetrics AI Assistant.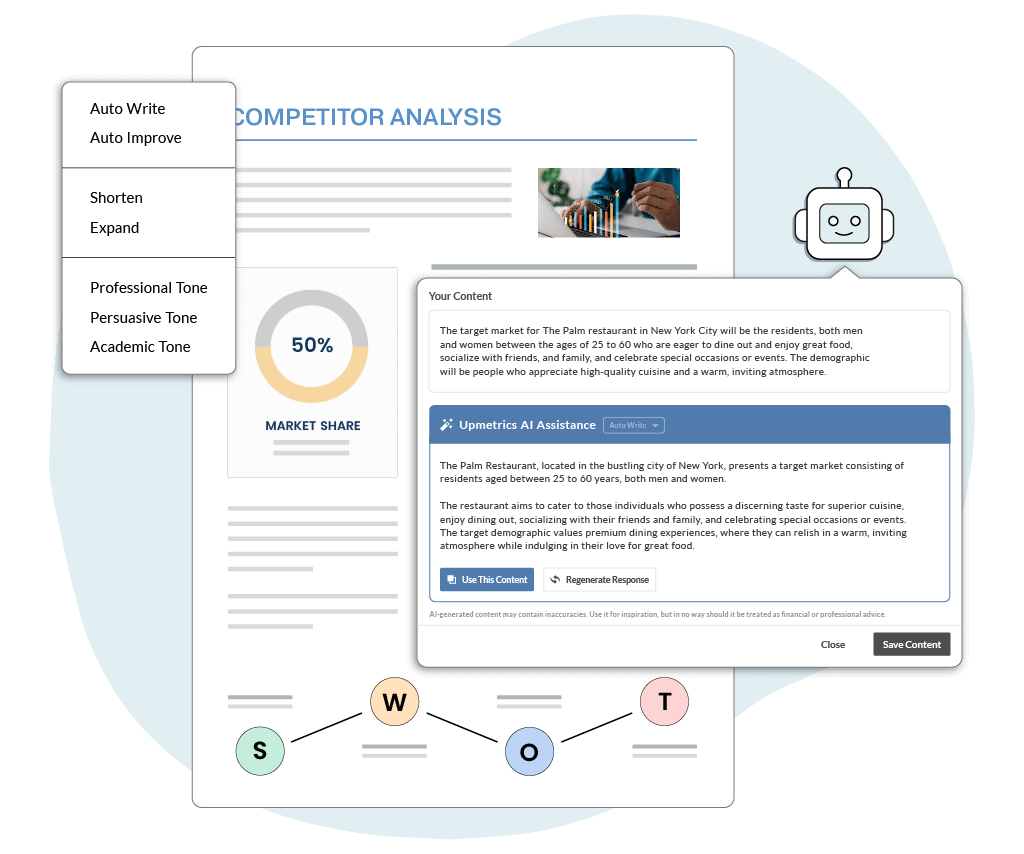 3. Market analysis
The market analysis section provides you with a clearer picture of your target market, competitors, and industry trends.
Based on the above details, one can make informed decisions while creating strategies. Therefore, make this section precise and concise to understand.
Here are some steps to follow to write an engaging market analysis section of the restaurant business plan:
Define your customer base: Identify and describe whom you are going to serve. Make a consumer base after considering the demographics, location, and concept of your restaurant.
Competitive analysis: List out the names of other restaurants in your location and do the SWOT analysis. You can get the competitive advantage of your restaurant this way.
Market trends: Discuss any shift in consumer behavior like healthy choices, an increase in vegan food consumption, or technological breakthroughs that might affect your restaurant.
Consider conducting market research, TAM-SAM-SOM analysis, and SWOT analysis to get insights for this section.
Remember, this section helps your readers and potential investors understand your target market, restaurant market overview, market size, and growth potential, so make sure you play your cards right.
4. Sample Menu
The most vital step in launching your restaurant business is the menu. A well-curated menu design will sell itself for your restaurant. Even if you are a new restaurant, then present the sample menu with the name and logo of your restaurant on it.
The menu will showcase all the unique offerings your direct competitors might not provide. Not just the list of cuisines but the pricing is also crucial. This way potential investors and readers can understand your restaurant's target price point.
Plus your menu should be in sync with target customers; for example, a restaurant near the university should contain more beverages and delicious food options for brunch as students prefer those things more.
Consider your menu as a part of branding, choose the same theme for the menu as for the restaurant.
5. Restaurant Design
Restaurant design is the part where you can show your restaurant concept to potential investors and readers practically. Moreover, create a mood board to explain things smoothly.
Utilize this section to show the uniqueness of your restaurant, and how it is different from competitors.
Explain how your design represents your restaurant's branding and visual identity. Furthermore, mention how your target market will enjoy and appreciate the ambiance you plan to provide.
Note that restaurant design is one of the key elements to running a successful restaurant, so match the theme and cuisines accordingly.
In this section, you also have to provide a detailed description of how many seats are going to be there along with the floor plan of your restaurant.
6. Management Team
As the name suggests, the management team section of your restaurant's business plan introduces restaurant owners, key executives, and the management team. It also incorporates the experience, qualification, and restaurant industry knowledge of every individual who is on the team.
A strong management team section can be essential to weigh authority and help potential investors be confident about your restaurant's idea and vision.
You might consider including the following information in the management team section:
Business owner or founder's information
Executive chef and culinary team
Front-of-house manager
Operations and back-of-house team
Advisors/consultants
The organizational structure of the team
Showcase how each member fits and what roles & responsibilities they will play.  You should include a resume-styled summary for each person in the restaurant's management section.
7. Operations Plan
The operations plan section outlines the daily business processes and activities centered on achieving the restaurant dream and objectives described in the rest of the plan.
A detailed operations plan helps you and your team define your responsibilities, daily tasks, and short-term goals you need to achieve, keeping track of your long-term objective.
Here are a few key elements to include in your operations plan section:
Staffing and training
Operating hours
Operational process
Tools and equipment
Inventory control
Technology and software
Quality control measures
Customer service policies
Remember it should incorporate all important daily tasks. Also, an operations plan is a living document, you can change it often according to the change in the dynamics of the work.
Read More: The Ultimate Guide to Restaurant Operations Planning
8. Marketing Plan
Even with great food, prices, and ambiance, you won't attract enough diners without marketing.
Thus, a well-crafted restaurant marketing plan is necessary to spread awareness and build a strong brand presence.
The marketing plan can help you streamline your marketing efforts and create impactful and effective marketing campaigns while keeping track of the projected budget and maximizing return on investment.
Hence, this is the section in which you give an idea to your potential investors about how you will acquire new customers and retain existing ones. This section should include:
Target market and their dining habits
Branding and positioning
Marketing strategies (website, social media accounts, etc.)
Marketing Calendar
USPs of your restaurant (unique ambiance, amiable staff, new cuisines in the local area)
Your marketing goals
Customer retention strategies (loyalty program, giving coupons or discounts on bulk orders or events)
Even if you are going to hire a PR agency for marketing, then mention it and the reason why you chose them.
After taking care of marketing, let us move further to finances.
Read More: Step-by-Step Guide to Restaurant Marketing Plan
9. Financial Plan
The financial plan is the most crucial and demanding section of any business plan. It is one of the deciding factors for potential investors, banks, or any financial institute to invest in your restaurant business.
This section of your plan details your restaurant's financial information and how it will reach its financial goals or how much revenue potential it has.
Here are key components and statements that you should include in your financial plan section:
Pro forma profit and loss statement
Break-even analysis
Balance sheet
Sales forecast
Detailed cost analysis
Cash flow projections
Business ratios
Funding request
Tax considerations
Exit strategy
Before you create financial projections, know how many seats the restaurant will have and what services you plan to provide. This will help you in making realistic financial projections if you are going to start a new business.
Also, if you are asking for funding, then mention where you will utilize your funds.
We hope that this sample restaurant business plan will provide you with an idea for writing a successful plan.
Restaurant Industry Highlights 2023
Growth forecast: National Restaurant Association predicted US restaurant sales to reach $898 billion in 2022 which would further grow by 4% yearly to reach $1.2 trillion by 2030.
Technology is everywhere: Automation is helping staff maximize their efficiency by handling orders, deliveries, and communication effectively.
Sustainability & ethical sourcing: Eco-friendly practices such as minimizing food waste, avoiding single-use plastics, and ethical plus local sourcing are encouraged by customers.
Delivery is the new deal: People prefer deliveries over dining out as they are time-saving. So, there is an incline in the number of delivery apps and delivery services providing restaurants.
Kiosks are the preference: The number of people who prefer ordering and paying through kiosks is increasing due to the convenience.
How to Refine & Present a Restaurant Business Plan
Once you have written your entire business plan, it is time to read and re-read it and make it error-free. You have to be confident about every aspect of the plan before you present it in front of your audience.
Moreover, alter your plan to suit different audiences to enhance your communication. For instance, keep your plan professional and include all the growth potential, profitability, and ROI data when you present your restaurant business plan for seeking funding.
Also, when you present your restaurant business plan to potential partners or vendors, emphasize collaboration benefits and how it can help in their individual growth.
Apart from the above points, make sure your plan has various engaging visuals, interactive elements, and enhanced storytelling to present all the data interestingly. Thus, make a digital presentation of your plan to incorporate all the above things clutter-free.
Once you are confident, it is time to email your plan to the people already on your mind. And give a pat to yourself for finally taking that step.
Download a sample business plan for a restaurant
Ready to kick-start your business plan writing process? And not sure where to start? Here you go, download our free restaurant business plan pdf, and start writing.
This intuitive, modern, and investment-ready template is designed specifically for restaurants. It includes step-by-step instructions & examples to help in creating your own restaurant business plan.
Related Restaurant Resources
Discover how Upmetrics can help you write a business plan
With Upmetrics, you will receive step-by-step guidance, customizable templates, 400+ sample business plans, and AI assistance to streamline your business planning process.
In fact, if you are not adept with finances, the financial forecasting tool Upmetrics provides will help you create realistic financial forecasts for 3 or more years.
Whether you're starting a new venture or looking to grow one, Upmetrics offers the resources and insights you need to develop a successful & professional business plan that aligns with your goals.